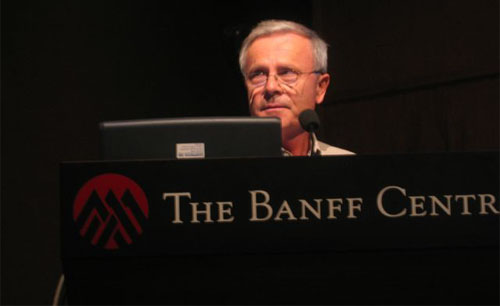 David Dickins presenting the paper "Review of Summer Ice Conditions Affecting Vessel Accessto the Coronation Gulf Region of Nunavut" at Icetech 2006 in Banff, Alberta.
DF Dickins publications can be found in holdings of many of the world's technical libraries, including:
Library of Congress, Washington D.C.
Scott Polar Research Institute, University of Cambridge, Cambridge UK
Arctic Institute of North America Library, University of Calgary, Alberta
National Research Council, Canada Institute for Scientific and Technical Literature
Fisheries and Oceans Canada, Institute of Ocean Sciences Library, Sidney BC
Additional locations and worldwide access points for DF Dickins reports and publications are found at: https://www.worldcat.org/
Air Cushion Vehicles (Hovercraft)
Dickins, D., Cox, M. and J. Thorliefson.  Arctic Patrol Hovercraft: an Initial Feasibility Study. Proceedings Ice Tech 2008, Banff Alberta, July 20-23, 2008.
Air Cushion Vehicles Design Evolution and Recent Developments. Presentation to the Society of Naval Architects, San Diego Chapter, December 2002.
Icebreaking in the St. Lawrence. Presented at 2002 International Symposium on Air Cushion Technology, September 16, 17 & 18, 2002 Terre Haute, Indiana USA (Co-author with Capt. Daniel L'Heureux, Canadian Coast Guard Hovercraft Unit (Trois Rivieres, Quebec).
Cominco's AP.1-88 Operations: A Successful Application of Hovercraft in the Mining Industry. Presented at the Intersociety High Performance Marine Vehicle Conference, Washington, June 1992.
Arctic Transportation. in Hovercraft Technology, Economics and Applications. Ed. J.R. Amyot, Elsevier Science Publishing, Amsterdam, 1989.
Evaluation of Hovercraft for Dispersant Application. Environmental Studies Revolving Funds Report No. 095, February 1988. (With SL Ross Environmental Research and Seakem Oceanography Limited.)
An Economic Evaluation of Air Cushion Vehicles in Support of Arctic Offshore Oil Development. In: Proceedings, 1988 International Conference on Air Cushion Technology, Annapolis, Md.
Design Studies for a Diesel Powered Heavy Lift Vehicle. In: Proceedings, 5th International Offshore Mechanics and Arctic Engineering Symposium, Tokyo, April 1986. (Co-Author with R. Tangren.)
Arctic Hovercraft: Lessons Learned and Future Prospects. In: Proceedings, Arctic Offshore Technology Conference, Anchorage, September 1985.
The Jeff (A) Arctic Test Program. In: Proceedings, 1984 International Conference on Air Cushion Technology, Vancouver, September 1984 (Peter Heron Winter Award as best conference paper).
Review of an Air Cushion Vehicle Program for Offshore Arctic Operations. In: Proceedings, 7th International Conference on Port and Ocean Engineering Under Arctic Conditions, Helsinki, June 1983. (Co-Author with T. Walden.)
Design of an Air Cushion Transporter for Arctic Operations. In: Proceedings, 14th Annual Offshore Technology Conference, Houston, May 1982. (Co-Author with T. Walden.)
Ice Conditions: Canadian Coast Guard Voyageur Ice-Breaking Trials, Parry Sound.Environment Canada Internal Report, Ottawa, 1974.
Environmental Research and Offshore Engineering
ISO 19906 – Implications for Arctic Offshore Escape, Evacuation and Rescue.POAC'11,  July 10-14, 2011, Montréal. J. Poplin, F. Bercha, C. Brummelkamp, D. Dickins, S. Knight, M. Mansurov, M. Mørland, D. Onshuus, V. Santos-Pedro, A, Simões Re and G. Timco.
Mapping Sea Ice Overflood Along the Alaskan North Coast.  Proceedings Ice Tech 2010, Anchorage September 20-23 (Principal author with Greg Hearon and Kim Morris).   A more detailed peer-reviewed article on this project was published by the Journal of Cold Regions Science and Technology 65 (2011) 275–285.
Environmental Issues for EER Systems in Ice.  Presentation at The Program of Energy Research and Development (PERD) Workshop on oil and gas in the offshore Beaufort Sea, Calgary, Alberta,  October, 2005.
Environment Guidelines for Arctic EER Systems in Ice-Covered Waters, Cold Regions Science and Technology 42 (2005) 201 – 214  January 2005. (Co-Author with G. Timco, National Research Council of Canada).
Sea Ice Overflood in Stefansson Sound, Alaskan Beaufort Sea. Proceedings 16th International Conference on Port and Ocean Engineering Under Arctic Conditions (POAC), Ottawa, August 2001. (Principal Author with Coastal Frontiers.)
Environmental Sensitivity Atlas for the Lancaster Sound Region. In Proceedings of the Thirteenth Arctic Marine Oil Spill Technical Seminar, Edmonton, June 1990. (Principal Author with ESL Environmental Sciences, SL Ross, K.J. Finley, EML, LGL). Published for Environment Canada by DF Dickins Associates Ltd. Vancouver ISBN 0-921623-08-9.
Multi-year Ice Thickness in the Beaufort Sea. In Proceedings (POAC) International Conference on Port and Ocean Engineering Under Arctic Conditions, Lulea, Sweden, June 1989.
Probabilistic Design for Drifting Arctic Ice Features. Proceedings (Polar Tech) International Conference on Technology for Polar Areas, Norwegian Institute of Technology, Trondheim, June 1988. (Co-author with J. Mizikos.)
Ice Conditions at Cape Hatt, Baffin Island. Arctic Volume 40, Supplement 1, 1987.
Pack Ice in Canadian Waters: Dimensions and Dynamics of Leads and Floes.Published as report EE-82 by Environment Canada, Ottawa, Ontario, 1986. (Principal author.)
Multi-Year Pressure Ridge Study Queen Elizabeth Islands. In Proceedings 6th International Conference on Port and Ocean Engineering Under Arctic Conditions, Quebec, June 1981. (Principal Author.)
A New Approach to Field and Laboratory Tests of Tensile, Compressive, and Flexural Strength of Polycrystalline Fresh Water Ice. in Proceedings International Association for Hydraulic Research Ice Symposium, Leningrad, 1972. (Co-author with R. Ramsier.)
Oil Spills
EPPR. 2015. Guide to Oil Spill Response in Snow and Ice Conditions, Emergency Prevention, Preparedness and Response. (EPPR) working group of the Arctic Council, Denmark, 185 pp. (Co-author with E.H. Owens of Oceans Coastal Consultants)
Targeted Full-Waveform Inversion of Ground-Penetrating Radar Data for Quantification of Oil Spills under Sea Ice. Prepared for presentation at the Offshore Technology Conference held in Copenhagan, Denmark 23-25 March 2015. Authors: John H. Bradford, and HP Marshall, Boise State University, Esther Babcock, Schlumberger Oilfield Services, David F. Dickins, DF Dickins Associates LLC.
National Research Council. 2014. Responding to Oil Spills In the U.S. Arctic Marine Environment. National Academies Press, Washington, D.C., 195 pp. (Committee Member)
Spill Response in the Arctic Offshore. Feb 2012.  Prepared for the American Petroleum Institute and the Joint Industry Programme on Oil Spill Recovery in Ice.  Authors:  Stephen Potter, Ian Buist and Ken Trudel – SL Ross Environmental Research; David Dickins – DF Dickins Associates LLC; and Ed Owens – Polaris Applied Sciences. Commissioned by the American Petroleum Institute.
Arctic Oil Spill Conference. Organized by ibc Energy, Hilton London Paddington Hotel, October 4-5, 2011  Paper entitled "The Behaviour of Offshore Oil Spills in the Arctic and the Implications for Response" David Dickins co-chaired this conference with Steve Potter of SL Ross Environmental Research.
Oil Spills in Sea Ice:  Past Present and Future. Organized by the Istituto Geografico Polare in Fermo Italy, September 20-23, 2011  Paper entitled "Oil Spill Behaviour in Ice:  Overview of four decades of research and lessons for future Arctic spill response."
Beaufort Sea Oil Spills State of Knowledge Review and Identification of Key Issues.
AMOP 2011, June 7-9 Calgary. Stephen Potter, Ian Buist, Ken Trudel, Randy Belore – SL Ross Environmental Research, David Dickins – DF Dickins Associates LLC, Peter Devenis – Envision Planning Solutions Inc.
Behavior of Oil Spills in Ice and Implications for Arctic Spill Response.  Paper No. OTC 22126 (Sole Author). Arctic Technology Conference, Feb 7-9, 2011, Houston.
Modeling Frequency-Dependent GPR Wave Propagation through Sea Ice using the Reflectivity Method and Application to Oil-Spill Detection. Poster presentation at the American Geophysical Union, Fall meeting 2011. (Co-author with J.H. Bradford and H. Marshall).
Dickins prepared a chapter on oil pollution in Arctic waters as part of The Ice Navigation Manual published by Witherby Seamanship International.  The new book was released early in March 2010 and can be ordered from Amazon or from Witherby Seamanship International.
Remote Sensing for the Oil in Ice Joint Industry Program 2007-2009.  Proceedings 33rd AMOP Technical Seminar, Halifax NS, June 2010. Principal author with Jörn Harald S. Andersen, Per Johan Brandvik, Ivar Singsaas, Turid Buvik, John Bradford, Richard Hall, Mohamed Babiker, Kjell Kloster and Stein Sandven.
Oil Industry Activities to Advance Oil Spill Preparedness in Cold Conditions.  Presentation to SPE Conference on Health, Safety and Environment in Oil and Gas Exploration and Production, 13 April 2010, Rio de Janiero, Brazil. Co-author with Peter Velez, Jim Clark, William Lerch, Hanne Greiff Johnsen, and Yvette Oskilo.
Sorstrom, S.E., Brandvik, P.J., Buist, I., Daling, P., Dickins, D., Faksness, L-G, Potter, S., Rasmussen, J.F. and I. Singsaas. 2010.  Joint industry program on oil spill contingency for Arctic and ice-covered waters – Summary Report. Oil in Ice – JIP Report No. 32, Trondheim, Norway.
Bradford, J.H., Dickins, D.F. and P.J. Brandvik.  2010.  Assessing the potential to detect snow covered oil spills on sea ice using airborne ground-penetrating radar. Geophysics 75.2 (2010)
Buist, I., Belore, R., Guarino, Al, Hackenberg, D., Dickins, D., Wang, Z.  2009.  Empirical Weathering Properties of Oil in Ice and Snow.   Proceedings 32nd AMOP Technical Seminar. Dickins, D.F., Bradford, J.
Detection of Oil On and Under Ice:  Phase III:  Evaluation of Airborne Radar System Capabilities in Selected Arctic Spill Scenarios. Presentation at the Canada–US Arctic Research Forum, Anchorage AK, October 2008.
Dickins D., Brandvik, P.J., Bradford, J., Faksness, L-G, Liberty, L., and R. Daniloff. Svalbard 2006. Experimental Oil Spill Under Ice:  Remote Sensing, Oil Weathering Under Arctic Conditions and Assessment of Oil Removal by In-situ Burning.  Proceedings 2008 International Oil Spill Conference, May 4 –8, 2008 Savannah, Georgia.
Dickins, D.F. and A.A. Allen.  August 2007.  Shell's Beaufort Sea Exploratory Drilling Program Oil Spill – Response in Ice.  Prepared for Shell Exploration and Production, New Orleans and Anchorage.
Allen, A.A., Dickins D.F. and S. M. Moore. Shell Develops Spill-response Program for Beaufort Work.  Oil and Gas Journal Nov. 12, 2007.
Ultrasonic Imaging Through Sea Ice. Submitted for publication in Geophysical Research Letters (GRL), 2006. (Co-author with Lee Liberty, and John Bradford — Boise State University and Per Johan Brandvik — SINTEF).
Defining Best International Practices for Oil Spill Response Planning. Presented by E. Owens at PAJ (Petroleum Association of Japan) Oil Spill Symposium, February 2007, Tokyo.  (Co-author with Edward Owens and Elliott Taylor — Polaris Applied Sciences).
International Perspectives on Oil Spill Response in Ice.  Presented at Touch of Oil Conference on Oil Combatting, Porvoo, Finland, September 2006.
New Developments in Oil-in-Ice Detection Systems. International Seminar on Regional Preparedness and Response for Oil Spills in the Baltic Sea Including Oil Combatting Under Ice Conditions. February 2006, St. Petersburg, Russia (presented by Heli Haapasaari of the Finnish Environment Institute).
Oil exploration at less than 2 m depth: Instantaneous attribute analysis of ground-penetrating radar data for detection of crude oil under sea ice. Presented at the Society of Exploration Geophysicist Annual Conference, Houston, November 2005 (co-author with John Bradford and Lee Liberty, Boise State University).
Oil Spill Prevention, Preparedness, Remediation and Research in Ice-covered Waters.  Presented at Arctic Oil and Gas Developments, conference organized by IBC Global Conferences, September 2005, London, UK.
New and Innovative Equipment and Technologies for the Remote Sensing and Surveillance of Oil in and Under Ice. Submitted to the 28 th Arctic and Marine Oilspill Program Technical Seminar, Calgary, June 2005. (Principal author with L. Liberty, W. Hirst, D. Bradford, V. Jones, L. Zabilansky, G. Gibson, J. Lane).
The Behavior and Documentation of Oil Spilled on Snow- and Ice-Covered Shorelines.Submitted to the International Oil Spill Conference, Miami, May 2005. (Co-author with E.H. Owens and G. Sergy).
Advancing Oil Spill Response in Ice-Covered Waters: An R&D Agenda. Proceedings Interspill 2004, Trondheim, June 14-17, 2004. (Principal Author with Capt. L.W. Brigham and W. B. Parker).
Oil Spill Risk Assessment. Presentation to The Royal Society of Canada Expert Panel to Review Science Issues Related to the Moratorium on Oil and Gas Activities Offshore B.C., Vancouver, October 2003. (Sole Author).
Tests to Determine the Limits of In-Situ Burning of Thin Oil Slicks in Brash and Frazil Ice. In Proceedigns the Twenty Sixth Arctic Marine Oil Spill Technical Seminar, Victoria BC, June 2003. (Contributing Author with I. Buist.)
Oil Spills in Ice Discussion Paper — A Review of Spill Response, Ice Conditions, Oil Behavior, and Monitoring. Prepared for Alaska Clean Seas, Prudhoe Bay by DF Dickins Associates Ltd., Vaudrey & Associates and SL Ross Environmental Research (publicly available), September 2000.
Annual Ice Cycle at the Mouth of the Colville River and Implications for Oil Transport.Proceedings of the Twenty Fifth Arctic Marine Oil Spill Technical Seminar, Calgary, June 2002. (Principal Author with E. Owens.)
Technical Aspects of Testing in Brash Ice at Ohmsett. In Proceedings of the Twenty Fifth Arctic Marine Oil Spill Technical Seminar, Calgary, June 2002. (Co-author with I. Buist)
Dome Petroleum's Study of Oil and Gas Under Sea Ice.

In Proceedings International Oil Spill Conference, Atlanta, 1981. (Principal author with I. Buist.)

Detection and Tracking of Oil Under Ice

. Prepared for the US Minerals Management Service, April 2002.

Maximum Capacity Testing of the LORI Brush Skimmer.

In Proceedings the 24th Arctic and Marine Oilspill Technical Seminar (AMOP), Edmonton, June 2001. (Contributing author with I. Buist.)

Oil Fate and Behaviour in Ice.

In Proceedings International Oil & Ice Workshop, Anchorage, April 2000. (Co-author with I. Buist.)

International Oil and Ice Workshop

, Anchorage April 2000.

Oil Behavior in Ice.

Proceedings 2nd Ice Scour and Arctic Marine Pipelines Workshop, 15th International Synposium on Okhotsk Sea and Sea Ice, Mombetsu, Hokkaido, Japan, February 6-10, 2000. (Co-author with J. McHale.)

Oil Spill Cost Summary Selected US Incidents 1984-2000

. Prepared for Marine Risk Management Panel convened by Washington State Department of Ecology and United States Coast Guard, 1999-2000.

Oil Spill Countermeasures for Ice Covered Waters.

Journal of Pure and Applied Chemistry, Vol. 71, No. 1, pp. 173-191, London, 1999. (Principal Author with I. Buist.)

Response Plans for Arctic Oil & Ice Encounters.

In proceedings 1999 International Oil Spill Conference, March 8-11, Seattle. (with Nick Glover, Alaska Clean Seas.)

Comprehensive Spill Response Tactics for the Alaska North Slope-Oil in Broken Ice Spill Response Scenarios

. For Minerals Management Service and Alaska Clean Seas, April 1999. (With SL Ross Environmental Research.)

Oil and Ice: Beaufort Sea Nearshore Oil Spill Response Options.

Presented at the Symposium on Oil Spill Prevention and Readiness, Valdez, Alaska, October 1996. (Co-author with N. Glover.)

Potential Effects of Vessel Design and Operational Improvements on Environmental Risk.

Presented at a conference on Marine Oil Prevention sponsored by BC Environment and the Washington State Office of Marine Safety, April 4, 1995.

The Newfoundland Offshore Burn Experiment — NOBE, Experimental Design and Overview.

In Proceedings of the Seventeenth Arctic Marine Oil Spill Technical Seminar, Vancouver, June 1994. (Contributing author.)

Practical Application of Probabilistic Risk Analysis for Marine Oil Spills.

In Proceedings PSAM-II, An International Conference Devoted to the Advancement of System-Based Methods for the Design and Operation of of Technological Systems and Processes, San Diego, March 1994. (Co-author with D. Winfield.)

Recent Shoreline Mapping Projects in British Columbia and Significance to Oil Spill Countermeasures Planning.

In Proceedings of the Fifteenth Arctic and Marine Oil Spill Program Technical Seminar, Edmonton, June 1992. (Co-Author with J. Harper.)

Pacific Coast Oil Spill Project, Scoping Document and Preliminary Experimental Plan

, Vancouver, February 1990.

Pacific Coast Oil Spill Project, Scoping Document and Preliminary Experimental Plan

, Environment Canada, Ottawa, June 1990.

Cleanup of Oil Spill on Coarse Sediments

, Environment Canada, Ottawa, Ontario, January 1991.

Oil Spill Response Atlas for the Southwest Coast of Vancouver Island.

published for BC Environment by DF Dickins Associates Ltd. Vancouver, 1990. (With Hammond Bay Environmental, Counterspil Research, Shoreline Achaeological, Harper Environmental, and EML Environmental Mapping) ISBN 0-7726-1184-X.

Environmental Atlas for Beaufort Sea Oil Spill Response.

In Proceedings of the Tenth Arctic Marine Oil Spill Technical Seminar, Edmonton, June 1987. (Principal Author with ESL Environmental Sciences and SL Ross.) Published for Environment Canada by DF Dickins Associates Ltd. Vancouver ISBN 0-921623-03-8.

Design and Operation of Oil Discharge Systems and Characteristics of Oil Used in the Baffin Island Oil Spill Project.

Arctic Volume 40, Supplement 1, 1987. (Principal Author.)

Experimental Spills of Crude Oil in Pack Ice.

in Proceedings International Oil Spill Conference, 1987, p. 373. (Co-author with Sl Ross Environmental Research.) Original Report ESRF No. 062.

Fate and Behaviour of Water-in-Oil Emulsions in Ice.

In: Proceedings of the Sixth Arctic Marine Oil Spill Program Technical Seminar, Edmonton, April 1983. (Co-Author with S. Potter, I. Buist.)

Dome Petroleum's Oil and Gas Under Sea Ice Study.

In: Proceedings of the Fourth Arctic Marine Oil Spill Program Technical Seminar, Edmonton, June 1981. (Co-Author with I. Buist.)
Marine Transportation
Review of Summer Ice Conditions Affecting Vessel Access to the Coronation Gulf Region of Nunavut.  Proceedings Icetech 2006 SNAME Conference, Banff, Alberta, July 2006.
Ice Conditions Used as a Design Basis for the Voisey's Bay Development. Submitted to the 18th International Conference on Port and Ocean Engineering under Arctic Conditions (POAC) Potsdam, New York, 26 – 30 June 2005. (Principal author with J. Dempsey)
Book Review. The Natural and Societal Changes of the Northern Sea Route. Ed. Willy Ostreng, Kluwer Academic Publishers, 1999. in Polar Record Vol. 37, No. 203, October 2001, pp. 363-365.
Potential Effects of Vessel Design and Operational Improvements on Environmental Risk. Conference on Marine Oil Prevention sponsored by BC Environment and the Washington State Office of Marine Safety, April 4, 1995.
International Polar Transportation Conference (Vol. 1&2). Proceedings published by DF Dickins Associates Ltd. Vancouver (ed. A. Cassidy). 1986
Arctic Marine Shipping Route Evaluations. Proceedings, 6th Ship Technology and Research Symposium, The Society of Naval Architects and Marine Engineers, Ottawa, June 1981.
Studies on the Extension of Winter Navigation in the St. Lawrence River. In Proceedings International Association for Hydraulic Research Symposium on River and Ice, Budapest, 1974. (Principal Author with R. Ramseier.)