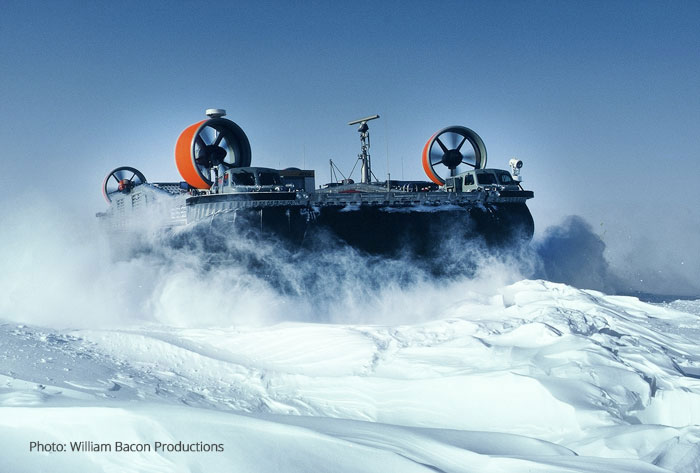 Projects: Air Cushion Vehicles (Hovercraft)
BACKGROUND
Dickins' hovercraft background dates back to 1969 with a pioneering expedition in the Mackenzie Delta with the British CC-7 gas turbine powered craft.  Over the past four decades, the company's ACV experience grew to encompass numerous projects for oil and mining clients as well as government agencies in Canada, the United States and Kazakhstan.
Over the course of these studies, Dickins has worked directly with or evaluated a wide range of hovercraft including the Bell Voyageur, SR.N6, SR.N4, ACT-100 (hover barge), Jeff (A), Wartsila Larus, AP.1-88/100 (ferry), the AP.1-88/200 and AP.1-88/400 (freighters and multi purpose craft), Griffon 8100, and BHT150.
Selected Air Cushion Vehicle Projects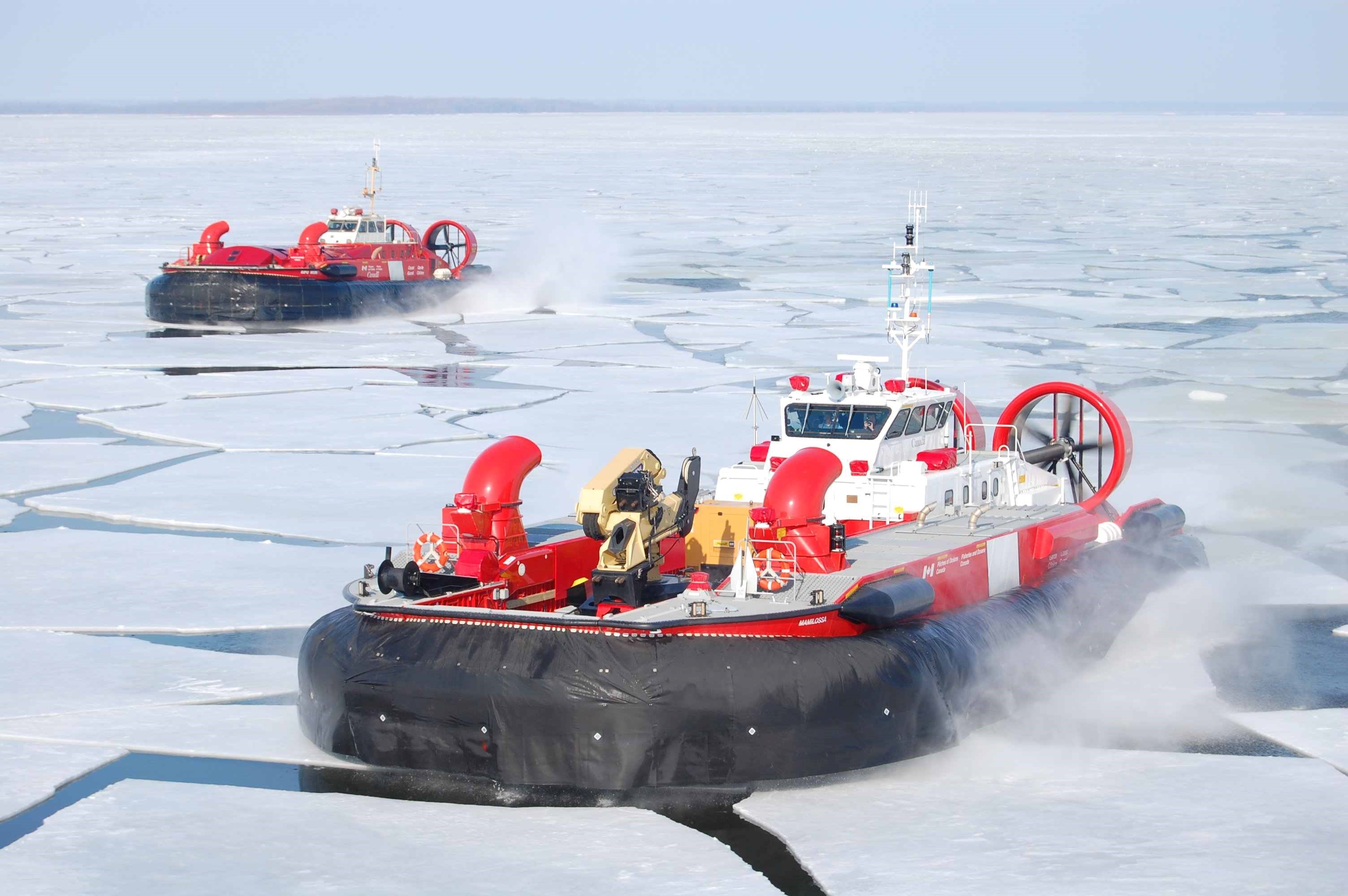 Kashagan Air Cushion Vehicle Engineering and Operations Assessment, with Daniel L'Heureux (Hovercraft Consultant)
for DNV GL Aytrau, Kazakhstan January 2016
This report presents a comprehensive engineering and operational assessment of the viability of using hovercraft to perform a number of missions presently carried out by vessels serving the offshore Kashagan Oil Field in the north Caspian Sea. The study was motivated by the increasing risk of more frequent and sustained disruptions due to lower water levels throughout the year. There is a pressing need to develop a practical and safe alternative transportation system that can maintain service regardless of water depth. Missions considered in the study included:
Freight and passenger transportation
Emergency Evacuation
Search and Rescue (SAR)
Arctic Patrol Hovercraft: an Initial Feasibility Study

for Defence Research and Development Canada  April 2007
Defence R&D Canada contracted Dickins Associates to conduct an initial feasibility into the use of hovercraft to patrol the Canadian Northwest Passage, motivated by a desire to protect and strengthen the country's sovereignty claims in the Arctic.  Missions may include search and rescue, fisheries enforcement, oil spill response and support of military exercises.  The study team, including Hovercraft Consultants Ltd. of Southampton, UK, examined existing craft and potential new designs in terms of their ability to perform over rough ice in extreme climatic conditions. The final report was submitted April 2007 and a paper summarizing the project was presented at IceTech08 in Banff (see References).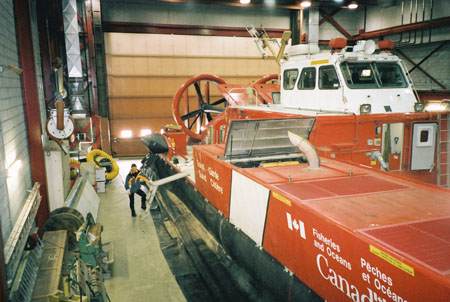 Air Cushion Vehicle Review, Fall 2004
Dickins completed a comprehensive worldwide review of hovercraft capabilities for an international oil company in support to their offshore oil development activities in the Caspian Sea. The project included an examination of technical, and economic issues associated with use of particular designs in a high-speed logistics role. An independent aspect of the work also evaluated the future potential of using hovercraft in the emergency evacuation role and identified necessary R&D to determine the practicality of operating in hazardous environments (pool fires, explosions and toxic gases). Dickins carried out the work in association with Hovercraft Consultants Limited of Southampton, UK.  The report is proprietary to the client.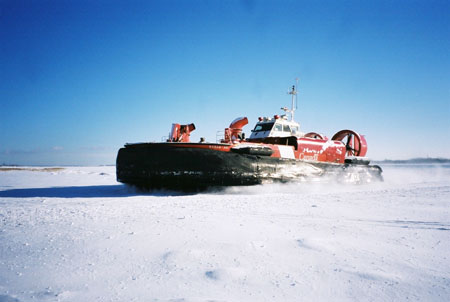 Hovercraft Feasibility Evaluation

for ExxonMobil, Houston, 2001 to 2002
A series of projects examined the feasibility of using hovercraft for emergency evacuation from a drilling platform offshore of Sakhalin Island during the ice season. Issues included reliability, capacity, and the ability to traverse rough broken ice. The project culminated in the development of a new design concept based on modular construction (with Hovercraft Consultants, Southampton, UK).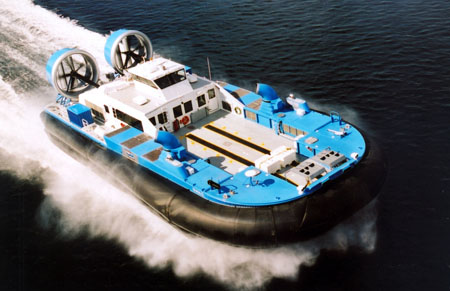 Cold Bay Hovercraft Evaluation

for East Aleutians Borough with The Glosten Associates, 2001-02
Working with a Seattle-based firm of naval architects, Dickins provided technical engineering support to assess the likely performance, operating costs and reliability of a proposed service, utilizing an AP.1-88 or similar design to connect the village of King Cove with the Cold Bay airport in the Aleutian Islands. A related project (Dec 02) examined the potential impact of hovercraft underwater noise on marine mammals, including seals, sea lions and sea otters.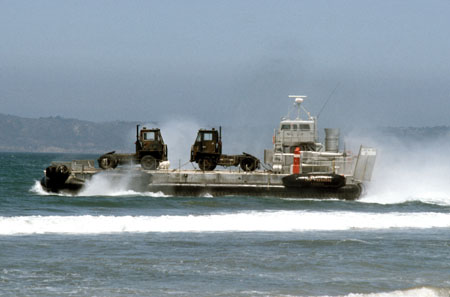 ACV Noise Impacts
for Lynden Transport (Alaska Hovercraft), 1994/9
Dickins assisted Lynden Transport in applying for permits to operate hovercraft on a mail/freight service out of Bethel Alaska. Involvement included participating in meetings with the US Postal Service on behalf of the client and evaluating noise data for both the AP.1-88 and the LACV-30.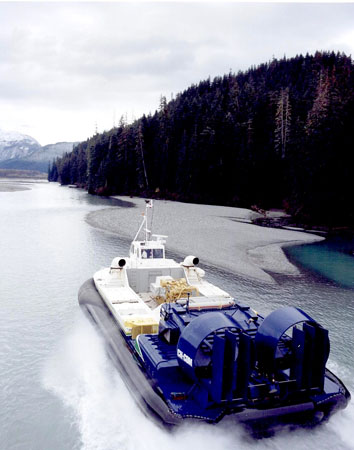 Hovercraft Operations in Support of Mining Operations

for Cominco Metals, 1989 to 1994
Dickins Associates surveyed the proposed operating routes and evaluated available vehicles to service the Snip gold mine in northern B.C. The hovercraft was highly successful, leading to the mine opening ahead of schedule, and resulting in substantial savings in transportation costs. Continued consulting work after start-up included environmental assessment of noise impacts, spill contingency planning and participation in a video demonstrating environmental benefits of hovercraft.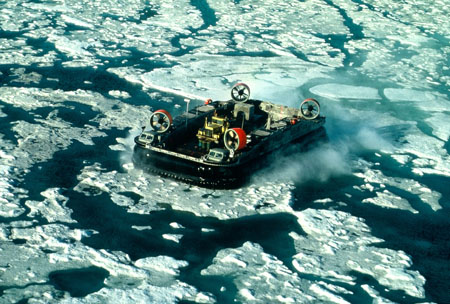 Photo: Bill Bacon Productions
Jeff (A) Arctic Testing, 1983-84

for SOHIO Petroleum Company, 1983 to 1984
A U.S. Navy hovercraft capable of carrying 75 tons of payload at 35 knots over ice was successfully tested at Prudhoe Bay, Alaska. The objective was to gather critical engineering data to improve future air cushion vehicle designs for arctic applications.
1000 Ton Arctic Air Cushion Vehicle Design

for SOHIO Petroleum Company, 1981 to 1983
DF Dickins Associates Ltd. acted as technical director of SOHIO's ACV research program. The objective was to prove the commercial economic and technical viability of large air cushion freight vehicles in the arctic. Dickins led an international design team that designed a self-propelled 350-ton payload ACV capable of year-round offshore operations along the Alaskan North Slope.